EBCO HAS THE CAPABILITIES TO COMPLETE YOUR PROJECTS.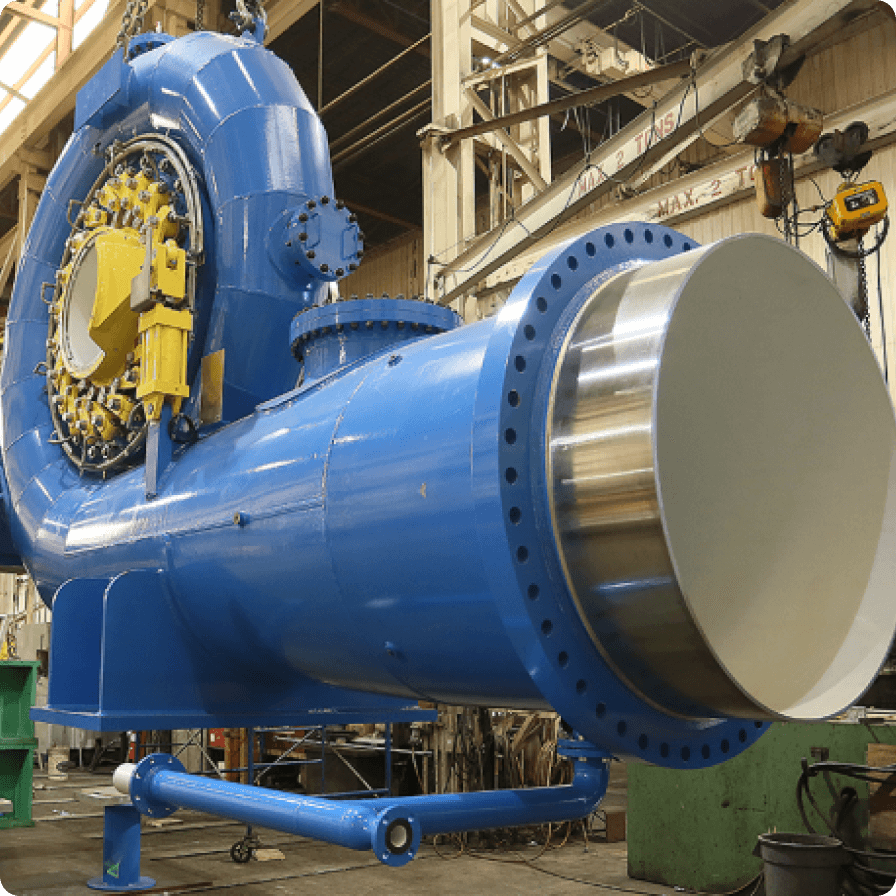 Francis Turbine
Project: Contract Manufacturing of Three Francis Turbines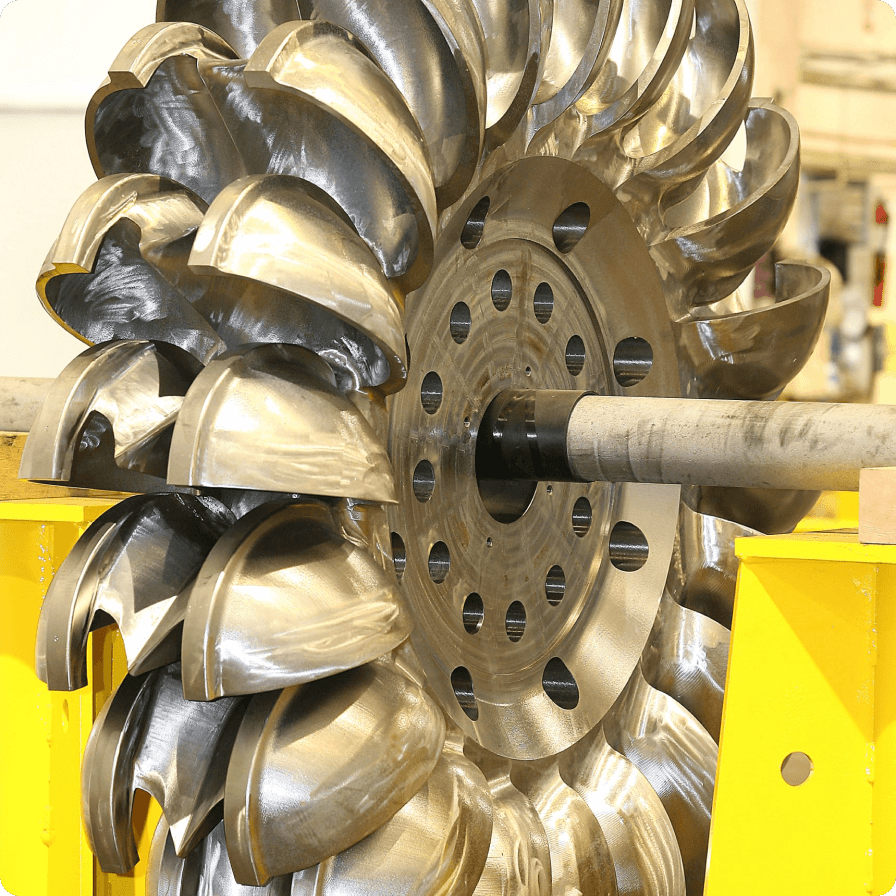 Pelton Runner
Project: Refurbishment of Pelton Runner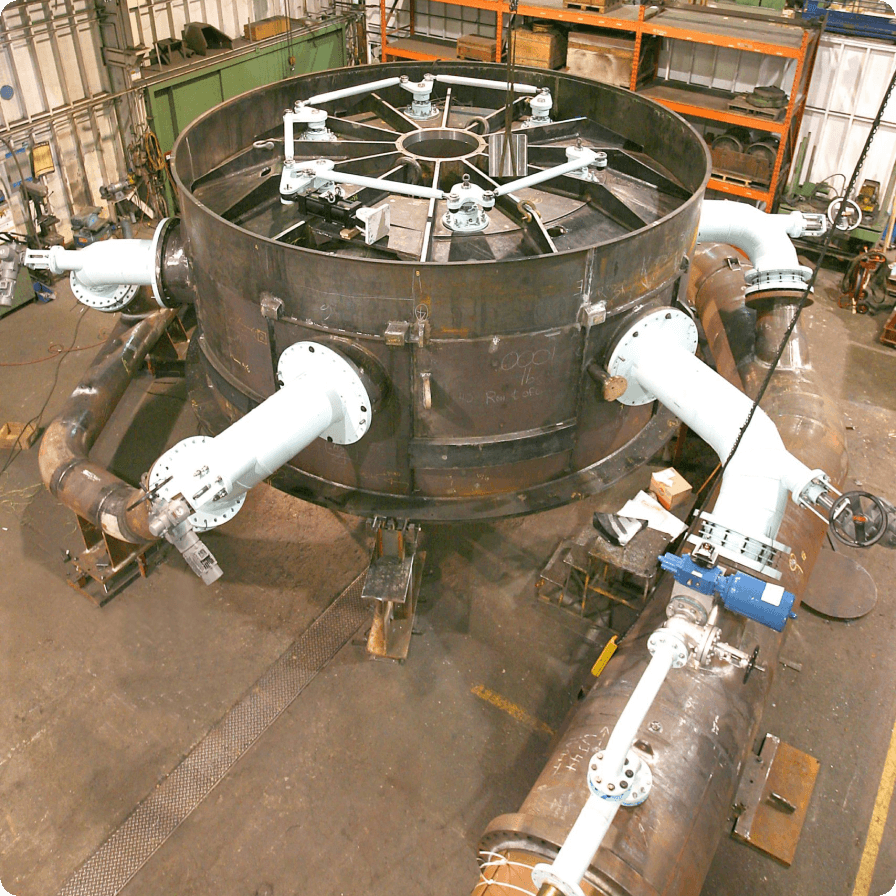 Pelton Turbine
Project: Contract Manufacturing of Pelton Turbine
Kaplan Turbine
Project: Refurbishment of Kaplan Turbine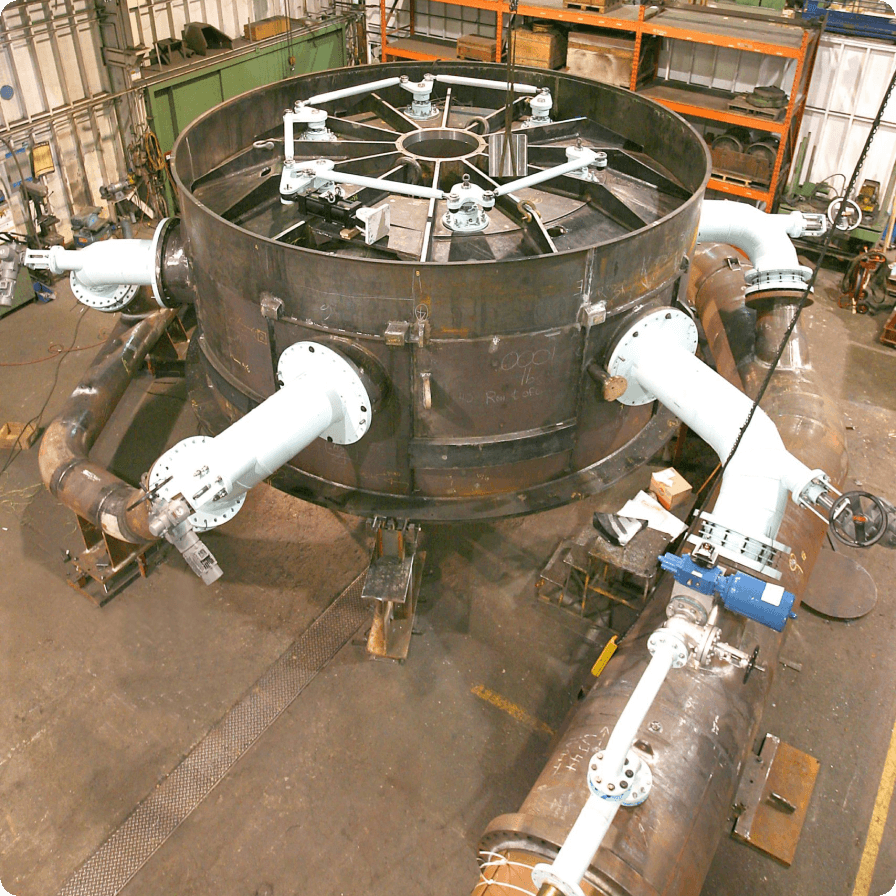 Radial Gates for Stave Falls Dam
Project: Contract Manufacturing Radial Gates
PELTON RUNNER RESTORATION
The pelton runner had extreme wear and damage from pumice in the waterflow. Large pieces were broken off multiple buckets and small chunks were worn off others. Ebco welded the large pieces back onto the effected buckets and, using Cold Metal Transfer welding, built-up the worn sections. The buckets were then CNC machined back to the designed profile. The repaired runner was heat treated to relieve any heat stress from welding and then checked for its dynamic balance. Finally, a 3D laser scan was made so that all future refurbishments could be made against a known model with no additional resources required from the client.
Details
Turbine: 820mm double nozzle Pelton
Generator: 1800kW WEG @ 900 RPM
Rated flow: 0.66m3/sec
Commissioned: November 2015
KAPLAN TURBINE
Hired to refurbish one of the Kaplan turbines at a hydro-electric power plant in Western Canada, our client had two options: spread the work among several suppliers or find one trustworthy supplier who could do all the refurbishing work on a 4-meter-diameter turbine with more than 100 components, all on a strict deadline. Ebco's capacity for over-sized equipment, shop and machines made us the obvious choice.
Our other huge advantage? We could handle all the parts ourselves. Our client didn't have to worry about managing several different suppliers, greatly simplifying project logistics.
After the welding, machining, sanding, painting and mechanical assembly were done, Ebco also had to make sure the parts met requirements before shipping them to the power plant.
Thanks to our team's experience, organization and ingenuity, despite the significant challenges caused by the wear and misalignment of the parts, Ebco was able to refurbish all of them, with its customary high-precision machining to within ten thousandths of an inch, for both dimensions and geometry.